About Us >
Company Profile
Greeting from the CEO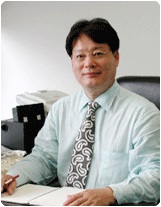 Puyoung Industrial Corporation, Ltd. is a South Korean corporation specializing in tarpaulin manufacturing. It was founded in 1992 and today has over 1000 employees in South Korea, the United States, Canada, France, the Netherlands, Israel, China, and Vietnam. Our factories are strategically located in four countries in order to best serve regional markets. Thanks to the tireless efforts of the entire team throughout our global production and sales network, we surpassed $100 million USD in revenue in 2012 and continue to grow our business in all six continents year over year.
Puyoung has made bold investments in research and development since its inception in order to improve quality. In particular, our Solarig™ woven film is a breakthrough for agricultural applications as it maximizes crop yield by offering better light diffusion, temperature control, and durability. We also invest in premium machinery imported from Austria and Germany to produce quality products that earn us the repeat business of discriminating buyers. As a result, Puyoung has secured contracts with most of the leading hardware retailers and warehouse clubs in the United States.
While continuing to develop specialized and high-end products that meet the needs of the American and European markets, Puyoung is also proud to help developing countries build a better tomorrow through high-quality, affordable woven PE products for the industrial and agricultural sectors.
We believe that our success in a competitive market is due to our always holding firm to our core values:
Consistent high quality
Keep your word to the customer
One global team
Challenge the status quo
Integrity
To all of our customers, thank you for your trust and support. We will continue to raise the bar in our mission to protect our customers' lives and assets with superior quality products, and hope you will be a partner in our growth in the years to come.

Youngjin Koh, CEO
Puyoung Ind. Co., Ltd.