PUYOUNG RECEIVES "50 MILLION DOLLAR EXPORT TOWER" AWARD ON 45TH ANNUAL TRADE DAY
November 30, 2008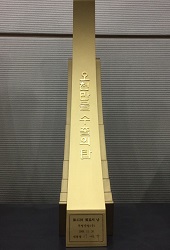 "Build the world's leading high-tech firm in the budding tarpaulin application sector."
With this mission, in 1992, CEO Youngjin Koh set off to establish Puyoung Industrial Corporation, Ltd., a manufacturing company specializing in all sorts of coated woven covers. One year later, Puyoung received the "One Million Dollar Export Tower" award and 15 years later was awarded the "50 Million Dollar Export Tower" at Korea's 45th Annual Trade Day in 2008.
Breaking free from the low-value-added production model was the key to accomplishing this. Since its inception, Puyoung has made bold investments in machinery and R&D. Recently, Puyoung introduced high-efficiency manufacturing equipment such as high-tech automated machines and test devices, and is concentrating on enhancing quality and productivity. CEO Youngjin Koh says, "Buyers are increasingly demanding products with specialized features that fit their needs," and goes on to explain, "We are focusing on coming out with high-end multifunctional products through development of new materials." Stated differently, the company has adopted as its life-or-death mission the global growth and development of technology in the application of polyethylene tarpaulin.
To this end, the company has established its second manufacturing plant at the subsidiary in Qingdao, China, and has invested $10 million (USD) in new capital for high-tech equipment and production systems. Up till now, polyethylene tarpaulin has been primarily used in tents, freight car covers, sun shades, protective covers for outdoor stacked materials, and the like. But recently, assorted source materials have been integrated to increase functionality, resulting in a product that is widely utilized as a sub material in construction or civil engineering.
In addition to growing its production facilities in China, Puyoung built a new factory in northern Vietnam's Hưng Yên region in 2006 to accelerate growth in production capacity. Furthermore, the company continues to expand its business domain with the 2007 acquisition of Taehoon Steel Pipe in Qingdao, China, a factory specializing in canopy production, and the establishment of a polyethylene net factory in Mỹ Hào, Vietnam.
While growing production capacity and diversifying the product line, Puyoung is also aggressively expanding its global sales network with the establishment of a PIC subsidiary in western Canada and the acquisition of French subsidiary SO.DE.PM SAS in July of this year.
Puyoung's ever-expanding global sales and production network is just one manifestation of the company's enterprising spirit, vision, and momentum. "$50 million dollars export" is just a milestone on the long journey ahead. The company will work ever harder to lead the global tarpaulin market and expand the business in new directions.