SOLARIG™ FILM PROPELS PUYOUNG FORWARD IN DOMESTIC AND OVERSEAS MARKETS
November 21, 2006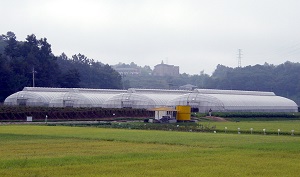 Puyoung Ind. Co., Ltd. specializes in the production of polyethylene tarpaulins. In addition to being a distributor of the woven source material itself, it produces end products through its subsidiary in Qingdao, China, and is the middle marketer for these products in the global market.
Up till now, polyethylene tarpaulins have been primarily used in tents, freight car covers, sun shades, protective covers for outdoor stacked materials, and the like. But recently, assorted source materials have been integrated to increase functionality, resulting in a product that is widely utilized as a sub material in construction or civil engineering.
After receiving financial subsidies from the Department of Agriculture and Forestry and spending two years in research, the company is the first in the country to develop Solarig™, a woven film used in controlled horticulture. This product is highly durable, lasting over ten years. It features a tensile strength and tear strength that is over ten times greater than that of regular polyethylene films and thereby reduces maintenance costs. It also features superior solar ray dispersion and UV protection which promote healthier plant growth. Thus it is expected to contribute greatly to domestic agricultural development.
"By offering superior solar ray dispersion and UV protection, Solarig™ minimizes the spread of insects or diseases in crops," explains CEO Youngjin Koh. "The use of pesticides naturally decreases, and this promotes environment-friendly and consumer-friendly cultivation practices."
Puyoung anticipates that Solarig™ will be a boost for the agricultural sector by promoting greener farming practices, maximizing yield, and reducing costs.